Ukraine Conflict: Those In Putin's Inner Circle.
Vladimir Putin cuts a solitary figure, leading Russia's military into a high-risk war that threatens to tear apart his country's economy.
He has rarely looked more isolated than in two recent, choreographed appearances with his inner circle, where he sits at a resolute distance from his closest advisers.
As commander in chief, ultimate responsibility for the invasion rests with him, but he has always relied on a deeply loyal entourage, many of whom also began their careers in Russia's security services. The question is who has his ear, during this most fateful moment in his presidency?



If anyone does, it is long-time confidant Sergei Shoigu, who has parroted the Putin line of demilitarising Ukraine and protecting Russia from the West's so-called military threat.
This is a man who goes on hunting and fishing trips with the president to Siberia, and he has in the past been viewed as a potential successor.
But take a look at this extraordinary photo of him at the end of this table, sitting awkwardly beside the head of the armed forces, and you wonder how much of President Putin's ear he is able to reach.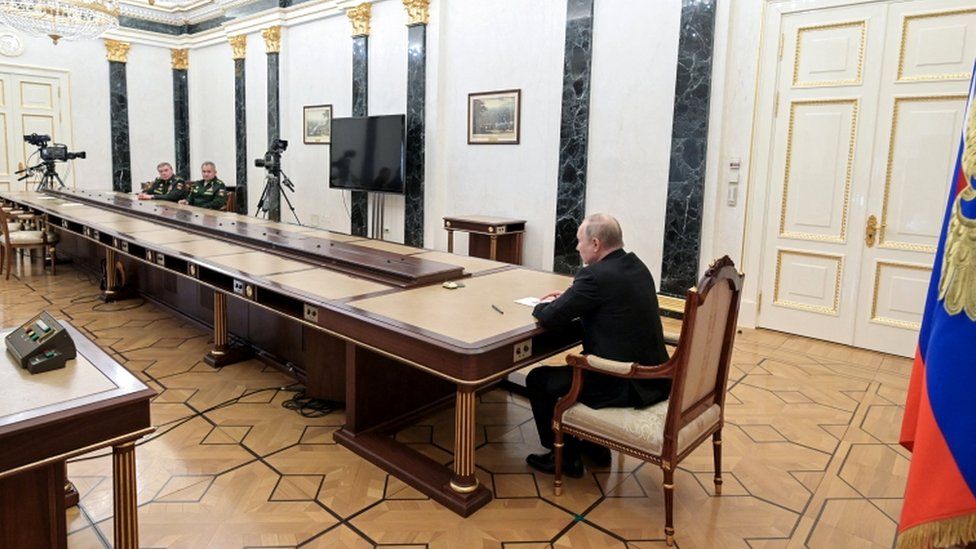 This picture was taken three days into a military campaign struggling with unexpected Ukrainian resistance and low military morale.
"Shoigu was supposed to be marching to Kyiv; he's minister of defence and was supposed to win it," says Vera Mironova, a specialist in armed conflict.
He was credited with the military seizure of Crimea in 2014. He was also in charge of the GRU military intelligence agency, accused of two nerve agent poisonings – the deadly 2018 attack in Salisbury in the UK and the near-fatal attack on opposition leader Alexei Navalny in Siberia in 2020.
The picture looks even worse as a close-up. "It looks like a funeral," says Ms Mironova.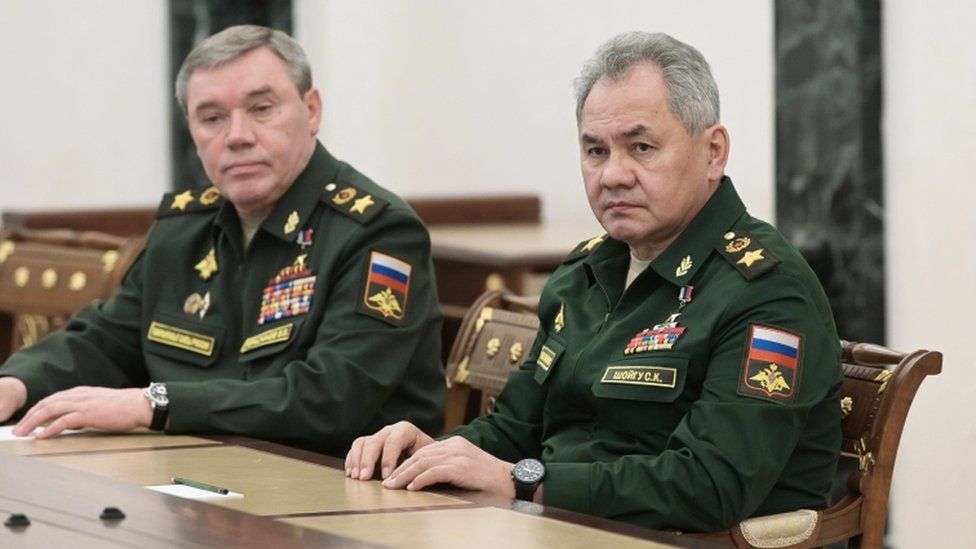 It may look awkward, but Russian security expert and writer Andrei Soldatov believes the defence minister is still the most influential voice the president hears.
"Shoigu is not only in charge of the military, he's also partly in charge of ideology – and in Russia ideology is mostly about history and he's in control of the narrative."



As chief of staff, it was his job to invade Ukraine and complete the job fast, and by that standard he has been found wanting.
He has played a major role in Vladimir Putin's military campaigns ever since he commanded an army in the Chechen War of 1999, and he was at the forefront of military planning for Ukraine too, overseeing military drills in Belarus last month.
Described as an "unsmiling, craggy bruiser" by Russia specialist Mark Galeotti, Gen Gerasimov also played a key role in the military campaign to annexe Crimea.
Some reports suggest he has now been sidelined because of the stuttering start to the invasion of Ukraine and reports of poor morale among the troops.
But Andrei Soldatov believes that is wishful thinking from some quarters: "Putin cannot control every road and every battalion, and that is his role." And while the defence minister may love his uniforms, he has no military training and needs to rely on the professionals, he adds.


"Patrushev is the most hawkish hawk, thinking the West has been out to get Russia for years," says Ben Noble, Associate Professor of Russian Politics at University College London.
He is one of three Putin loyalists who have served with him ever since the 1970s in St Petersburg, when Russia's second city was still known as Leningrad.
The other two stalwarts are security service chief Alexander Bortnikov and foreign intelligence head Sergei Naryshkin. All the president's inner circle are known as siloviki, or enforcers, but this trio are closer still.
Few hold as much influence over the president as Nikolai Patrushev. Not only did he work with him in the old KGB during the communist era, he replaced him as head of its successor organisation, the FSB, from 1999 to 2008.
It was during a bizarre meeting of Russia's security council, three days before the invasion, that Mr Patrushev pushed his view that the US's "concrete goal" was the break-up of Russia.
The session was an extraordinary piece of theatre, showing the president holding court behind a desk as one by one his security team walked up to a lectern and expressed their opinion on recognising the independence of Russian-backed rebels in Ukraine.
Nikolai Patrushev passed the test. "He's the one who has the chief battle cry, and there's a sense in which Putin has moved towards his more extreme position," says Ben Noble.



Kremlin watchers say the president trusts information he receives from the security services more than any other source, and Alexander Bortnikov is seen as being part of the Putin inner sanctum.
Another old hand from the Leningrad KGB, he took over the leadership of its replacement FSB when Nikolai Patrushev moved on.
Both men are known to be close to the president, but as Ben Noble points out: "It's not as if we can say with complete confidence who is calling the shots and who took the decisions."
The FSB has considerable influence over other law enforcement services and even has its own special forces.
He's important but he's not there to challenge the Russian leader or give advice in the same way as others, believes Andrei Soldatov.



Completing the trio of old Leningrad spooks, Sergei Naryshkin has remained alongside the president for much of his career.
What, then, should we make of a remarkable dressing down he was subjected to when he went off-message during the security council meeting?
When asked for his assessment of the situation, the intelligence chief became flustered and fluffed his lines, only to be told by the president: "That's not what we're discussing."
The lengthy session was edited so the Kremlin had clearly decided to show his discomfort in front of a big television audience.
"It was shocking. He's incredibly cool and collected so people will have asked what's going on here," Ben Noble told the BBC. Mark Galeotti was struck by the toxic atmosphere of the whole occasion.
But Andrei Soldatov thinks he was simply enjoying the moment: "Putin loves playing games with his inner circle, making him [Naryshkin] look a fool."
Sergei Naryshkin has long shadowed Mr Putin, in St Petersburg in the 1990s, then in Mr Putin's office in 2004 and eventually becoming speaker of parliament. But he also heads the Russian Historical Society and, in Soldatov's view, he has proved very important in providing the president with ideological grounds for his actions.
Last year he gave an interview to the BBC's Moscow correspondent Steve Rosenberg in which he denied that Russia had carried out poisonings and cyber attacks or had interfered in other countries' elections.
Culled from the BBC